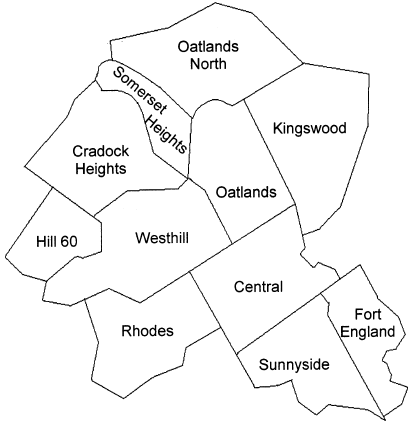 WESTHILL
R750 000 - R9 000 000
This is a high demand area due to its proximity to Rhodes University and private schools (St Andrews, DSG). It has some small flats, town houses, and a variety of homes. Many homes are on large erven. This is one of the older parts of town and boasts some exceptional and stately properties.
HILL 60
R1 200 000 - R4 600 000
Situated on the hill on the north-western boundary of the town. A quiet, exclusively residential area with homes that are newer and slightly lower in price. This is one of the safest areas with good views. It has a good re-sale track record.
CRADOCK HEIGHTS
R250 000 - R2 500 000
The most recent suburb to be developed. It is a quiet residential area with attractive views over
Rhodes University and town.
SOMERSETHEIGHTS
R1 400 000 - R5 000 000
Somerset heights offers up-market, spacious and fairly modern homes, with large gardens. Most homes were built after 1960. This area is close to Graeme College and is very popular with families.
OATLANDS NORTH
R850 000 - R4 000 000
This area also has good re-sale value and is on the doorstep of Graeme College. It offers houses and townhouses. Prices are generally lower than Somerset Heights and often offer panoramic views over town.
KINGSWOOD
R600 000 - R4 000 000
Offering mostly older homes with some newer houses on varying plot sizes. You can find some real gems and character homes which are set in streets that have their own ambience. This area is popular amongst Kingswood parents.
OATLANDS
R1 200 000 - R7 200 000
Close to all amenities and with excellent re-sale value. Oatlands has many older, character homes in an established area with many trees. Close to Oatlands primary school and between three private schools.
CENTRAL
R550 000 - R8 000 000
This area offers a variety of flats, smaller cottages, homes and B&B's. The closer to the university, the more expensive these properties become. Commercial property is hard to find as there is a high demand.
SUNNYSIDE
R550 000 - R5 400 000
Situated on the warmer side of town is one of original Settler areas. This area offers charming, historic cottages and also newer homes and townhouses. Sunnyside is becoming more and more popular as many homes face north and it is close to Rhodes, P.J. Olivier and Victoria Girls High School.
FORTENGLAND
R500 000 - R1 300 000
Many of the homes were built around 1970 with a few charming older homes. This area is close to Fort England Psychiatric Hospital. The homes in this area are predominately lower-priced and are well suited to first-time homeowners
STONESHILL
R1 200 000 - R4 000 000
Situated 5kms out of town in a rural, country setting. Stoneshill consists of small holdings of varying sizes. This are does not fall within the municipal area and has an independent water system and Eskom electricity.